Discover Northwest Arkansas: The Fastest Growing Region of the Natural State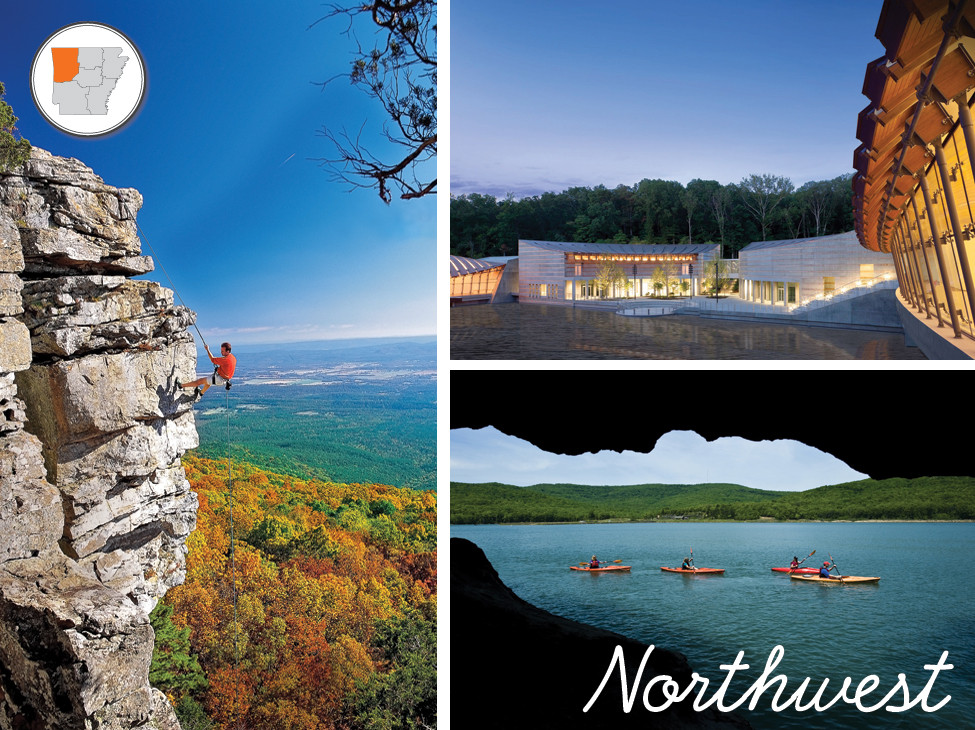 A region once known for its natural wonders — the Ozark Mountains, Whitaker Point, Beaver Lake and Mount Nebo — is now recognized for being an arts and business hub. Northwest Arkansas's great outdoors are now flanked by cultural destinations like Crystal Bridges Museum of American Art and 21c Museum Hotel in Bentonville, the Walton Arts Center in Fayetteville, and the Walmart Amphitheater in Rogers. These arts and culture hubs provide opportunities for year-round enrichment.
The metropolitan area of Fayetteville, Rogers, Springdale and Bentonville — the latter of which is the headquarters for Walmart — attracts thousands of workers. Walmart, the world's largest company, is a huge job-supplier, as is Tyson Foods in Springdale and transportation company J.B. Hunt in Lowell.
North of the metro are Bella Vista and Eureka Springs. Bella Vista is a golf-lovers paradise and popular retirement spot. Eureka Springs is an artsy town whose entire downtown is listed on the National Register of Historic Places. AmericanStyle has repeatedly named the town one of the top 25 art destinations in the U.S.
Northwest Arkansas is truly a recreational dream. Mountain biking, kayaking, fishing — there are endless ways to get outside and explore. The highest point in the state can be found at Mount Magazine State Park in Paris at 2,753 feet above sea level. Another prominent mountain in the area is Mount Nebo near Dardanelle. The Ozark Highlands National Recreation Trail is a 258-mile hiking trail that winds from Lake Fort Smith State Park to the Buffalo National River.
Arkansas's Wine Country is found in this region, and folks from all over come to try the vino at its six wineries. All six offer a variety of wines and tastings.
On the southwestern edge of the region lies Fort Smith, whose history dates back to its establishment as a military post in 1817. Its U.S. Marshals history is so important that a new national museum is planned to open in 2018 and will feature 50,000 square feet of interactive exhibit space.
Overlooking 34,000-acre Lake Dardanelle and the Arkansas River, Russellville is another key city along Scenic Highway 7. With Mount Nebo nearby, Arkansas Tech University and Lake Dardanelle State Park call this city home.
"The energy and inclusivity of Fayetteville is what I love most. Partnerships in Fayetteville and Northwest Arkansas in general are easy and powerful. The community is itching to collaborate with one another on new ideas and new projects." - Meg Bourne, moved to Fayetteville from Joplin, Missouri
---
In Northwest Arkansas you can…
• Sleep next to lions and tigers at Turpentine Creek Wildlife Refuge, a big cat sanctuary in Eureka Springs.
• Play in the snow. The region gets an average of 10.4 inches of snow annually.
• Yell "woo pig sooie" at an Arkansas Razorback football game in Fayetteville.
• Kayak whitewater rapids at the new Siloam Springs Kayak Park.
• Fly nonstop to 14 metros, including Los Angeles, New York City and Chicago from the Northwest Arkansas Regional Airport (XNA).
• Take an old fahsioned train ride on the Arkansas & Missouri railroad (board in Fort Smith or Springdale).
Northwest Arkansas is known for…
• Art. Crystal Bridges Museum of American Art was named among the "World's Hottest Museums for 2014" by SmarterTravel.com.
• Happy retirees. Bella Vista was named the "Best Place to Retire" in the nation by Money in 2015.
• Giving raises. Fayetteville-Springdale-Rogers ranked 12th for "Best Metro for Five-Year Wage Growth" by The Milken Institute.
• Job opportunities. Fort Smith and Fayetteville were both recognized by Forbes on its 2014 list of "Best Places for Business & Careers." National Geographic ranked the Fayetteville-Springdale-Rogers area 10th on its list of "Best Medium Cities for Job Growth" in 2014.
• Growth. WalletHub recognized Springdale for being the No. 6 fastest growing city among 516 U.S. cities in 2014.
• Active lifestyles. Bentonville got the No. 8 spot on Conde Nast Traveler's 2014 list of "Best Walking Cities in the U.S."
• Fall foliage. USA Today has Eureka Springs as No. 7 on its "10 Best Places to See Fall Colors" list, and Travel + Leisure named Eureka Springs one of 20 "Best Mountain Towns."
History was made in Northwest Arkansas when…
The Battle of Pea Ridge was fought. In March 1862, more than 26,000 soldiers fought to decide the fate of Missouri and the West. The Pea Ridge National Military Park commemorates this important battle and is one of the most intact Civil War battlefields in the U.S.
Sam Walton opened his five-and-dime store in Bentonville in 1950. What started on the town square is now the mega-chain we know as Walmart. As of 2014, the company has stretched across 27 countries, serving more than 200 million customers a week.
---
Northwest Arkansas Attractions
Arts & Theaters
21c Museum Hotel, Bentonville
Arkansas River Valley Arts Center, Russellville
Arts Center of the Ozarks, Springdale
Botanical Garden of the Ozarks, Fayetteville
Center for Art & Education, Van Buren
Crystal Bridges Museum of American Art, Bentonville
Eureka Springs May Festival of the Arts, Eureka Springs
Fort Smith Little Theatre, Fort Smith
Fort Smith Regional Art Museum, Fort Smith
Opera in the Ozarks, Eureka Springs
Original Ozark Folk Festival, Eureka Springs
Rogers Little Theater, Rogers
Sager Creek Arts Center, Siloam Springs
Symphony of Northwest Arkansas, Fayetteville
The Great Passion Play, Eureka Springs
University of Arkansas Fine Arts Center Gallery, Fayetteville
Walton Arts Center, Fayetteville

Historical Sites & Museums
Arkansas Air & Military Museum, Fayetteville
Pea Ridge National Military Park, Garfield
Prairie Grove Battlefield State Park, Prairie Grove
Turpentine Creek Wildlife Refuge, Eureka Springs
Walmart Visitors Center & The Walmart Museum, Bentonville
War Eagle Mill, Rogers
Permalink