Great Mountain Biking/Cycling Trails to Explore in Every Region of Arkansas
What makes a ride "epic"?
♦ Demanding experience in a natural setting
♦ Denotes a true backcountry riding experience in remote settings
♦ One that is technically and physically challenging
♦ More than 80 percent single-track
♦ At least 20 miles in length
There are countless cycling and mountain biking trails in Arkansas, but these five are considered the most adventurous and special, according to the International Mountain Bicycling Association (IMBA).
(Find a place to wander at The Best Trails in Arkansas to Hike for Epic Views and Awe-Inspiring Sights, and for those with a few more horses in the engine, check out Arkansas Motorcycle Trails: Joy Rides for Bikers & Road Warriors.)
---
Upper Buffalo Headwaters
Location: Ozark National Forest
Length: 40 miles
Skill level: Intermediate/Difficult
Get ready for a wild ride, this singletrack surrounds the highest point in the Ozark Mountains. You'll see and experience the Ozark National Forest in all its gritty glory on these routes. This area is remote; bring a friend on these steep climbs and great descents, as well as some provisions.
---
Syllamo
Location: Mountain View
Length: 50 miles
Skill level: Intermediate
This five-loop, 50-mile trail system has big rocks and river views on some routes through the St. Francis-Ozark National Forest. Singletrack throughout. Off the beaten path: For a break, stop in nearby Mountain View, "The Folk Music Capital of the World."
---
LOViT
Location: Hot Springs
Length: 40 miles
Skill level: Intermediate/Difficult
For those who like the wilderness and the city, you'll love the Lake Ouachita Vista Trail (LOViT) which begins at the Little Blakey Dam and rides across five mountains. Riders say that while the climbs aren't easy, LOViT has the best downhills in Arkansas.
---
Ouachita National Recreation Trail
Location: Montgomery County
Length: 108 miles
Skill level: Difficult
This is the longest hiking trail in the state of Arkansas: 223 miles long, to be exact. For 108 of those miles, you can bring your mountain bike. Bikes are allowed on the part of the trail between Highway 88 and Scenic Highway 7.
---
Womble Trail
Location: Ouachita National Forest
Length: 37 miles
Skill level: Intermediate
Considered the third best mountain biking trail in Arkansas, the Womble Trail meets the Ouachita National Recreation Trail at McGill Mountain. Get ready for some beautiful views from up in the mountains — as well as some steep climbs to get you there.
---
Discover More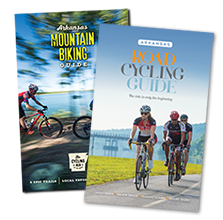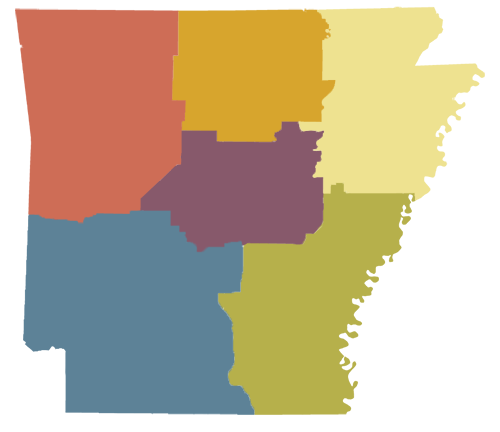 Visit Arkansas.com/Bicycling for details on more rides across Arkansas.
You can also request a copy of the state's mountain biking and road cycling guides seen here, view cycling videos and find information about cycling events.
Permalink