Good Things Brewing in The Natural State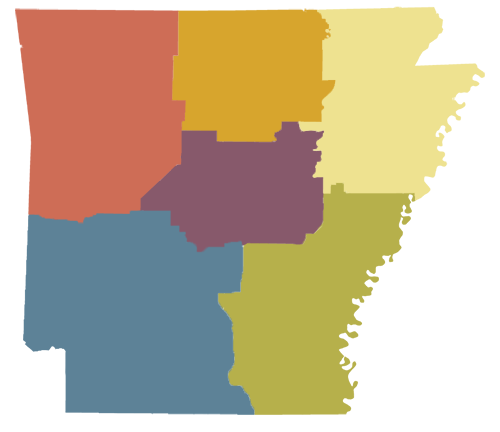 The Natural State is right in the middle of a craft brew boom.
With fewer than five breweries in 2010, the past few years have seen an exponential growth in Arkansan breweries and brewpubs — now there are more than 30.
You can find at least one in each major city in the state — each with a unique take on craft beer and local flavors.
---
Northwest
BENTONVILLE
Bentonville Brewing Company
Bentonville Brewing Company is known for its hoppy offerings, regular live music and Razorback watch parties. Pro tip: Try the West Fork Witbier.
Bike Rack Brewing Company
Bike Rack is Bentonville's first brewery. Located next to Pedaler's Pub and Bike Bentonville, the brewery attracts many a cyclist for a cold brew after a long ride.
---
FAYETTEVILLE
Apple Blossom Brewing Company
Apple Blossom brews all styles of beer using traditional German techniques with a modern twist. The brewery also offers evolving menu specials as well as fresh breads and pastries baked in-house daily.
Columbus House Brewery
Columbus House was the brain-child of two friends turned business partners. The brewery keeps it simple with four main beers on tap — an IPA, an oatmeal stout, a nut brown and a golden ale.
Fossil Cove Brewing Company
Fossil Cove's tasting room boasts a bright, happy atmosphere where you can kick back and enjoy a delicious pale ale (among other varieties) with friends.
West Mountain Brewing Company
Pizza and beer: a match made in heaven. West Mountain Brewery is part of Tiny Tim's Pizza, serving up pies and brews in downtown Fayetteville.
---
ROGERS
Ozark Beer Company
Ozark Beer Company boasts unique offerings in the craft brew scene. Try the Onyx Coffee Stout, a collaboration with Onyx Coffee Lab. Think: cream stout base with Guatemalan french roast coffee.
New Province Brewing Company
What's in a name? For New Province, quite a bit of history. When the citizens of Benton County voted to repeal prohibition in 2012, New Province stepped in to give NWA diverse craft brew options.
---
SPRINGDALE
Core Brewing & Distilling Company
Core has grown exponentially since opening its doors in 2010, now boasting eight year-round brews and even more seasonal favorites. Fun fact: The company mascot is a wiener dog. His name is Barney.
Black Apple Crossing
The premier cider company in Arkansas was recently recognized by Nightclub & Bar Media Group as one of 2015's "Top Rated New Hot Spots." For those new to hard cider, flights are available so you can discover which one you like best.
---
North Central
BIG FLAT
Gravity BrewWorks
Gravity BrewWorks is a small nano-brewery with small batches of hand-crafted beer. With 45 different options, there's something for even the pickiest beer-lover.
---
MOUNTAIN HOME
---
Southwest
AMITY
---
BONNERDALE
Bubba Brew's Brewing Company
Located 15 minutes southwest of Hot Springs, Bubba Brew's offers hoppy options like Hop Wolf Imperial or a smoother option with the Sandbar Pilsner.
---
HOT SPRINGS
Superior Bathhouse Brewery & Distillery
Fun fact: Superior Bathhouse Brewery is the only brewery in the country that's located within a National Park. They keep it local by using the city's thermal waters for brewing and naming each beer for a person or place in Hot Springs' history.
---
Central
LITTLE ROCK
Blue Canoe Brewing Company
Blue Canoe is a nano-brewery and taproom in the heart of downtown Little Rock. The company even includes include a Mexican-inspired eatery next door called Taco Beer Burrito.
Damgoode Pies Brewhouse
Damgoode Pies recently expanded to the heart of the River Market with a location overlooking the Arkansas River.
Lost Forty Brewing
This Little Rock favorite knows how to do it right. With crisp brews like the Love Honey Bock, delicious food and an industrial atmosphere, this raved-about brewery lives up to the hype.
Rebel Kettle Brewing Company
This brewery made a huge splash with one of the best patios in town, according to Rock City Eats. The huge area offers plenty of seating and views of the Clinton Library and Heifer international.
Refined Ale Brewery
Made in three-barrel batches for superior product, Refined is the only brewer of malt liquor in the South.
Stone's Throw Brewing
This downtown Little Rock nano-brewery had its humble beginnings with a Kickstarter campaign and quickly became a city favorite with its rotating craft brews and revolving schedule of on-site food trucks.
Vino's Brewpub
Vino's, which began brewing in 1993, is Little Rock's oldest brewpub. The brewpub is home to a variety of delicious craft beers, plenty of pizza and live music.
The Water Buffalo & Buffalo Brewing Co.
Along with its beer, the Water Buffalo offers home brew and wine making supplies.
---
NORTH LITTLE ROCK
Diamond Bear Brewing Company
A veteran brewery in North Little Rock, Diamond Bear came on the brew scene in 2010 and has since expanded throughout Arkansas and the South.
Flyway Brewing Company
Located in North Little Rock near Verizon Arena and Dickey-Stephens Park, Flyway Brewing Company — which is named after the Mississippi Flyway — produces handmade, small-batch beers.
---
Tours
Fayetteville Ale Trail: This self-guided beer tour lets visitors and residents experience the local brewery scene and engage with brewmasters while learning about their craft.
Locally Labeled: A great way to explore central Arkansas's homegrown craft breweries, wineries and Rock Town Distillery.
North Central Brewery Trail: Tour Gravity Brew Works and the sights of Mountain View.
North Little Rock Loop: North Little Rock boasts a taproom and two breweries—one of Arkansas's oldest and newest—all within walking or biking distance of one another.
Southwest Arkansas Breweries: Tour the Superior Bathhouse Brewery on historic Bathhouse Row in Hot Springs before heading west to Bubba Brew's Brewing Company in Bonnerdale.

For all things Arkansas beer, visit Arkansas.com.
Permalink